For Real Plus
Based on the successful For Real series, revised and updated, For Real Plus is the course to equip your students for the 21st Century.
Motivating, up-to-date themes to get students thinking and talking.
Fresh, easy to use design for effective teaching and learning.
Authentic communication lessons to get students speaking using natural, everyday language.
Thought-provoking graded stories for enjoyable extended reading.
Enriched vocabulary work.
Innovative focus on grammatical accuracy and spoken fluency.
Regular exam practice and tips for the most recent international exams.
Brand new video interviews.
New in-depth Skills Book developing essential skills for life.
The full-colour integrated Workbook includes grammar reference, wordlists, extensive vocabulary and grammar practice, and study skills.
Classroom friendly Starter Books to bring students up to speed.
Plenty of extra digital resources online on helbing-ezone.com
Winkelwagen
Geen artikelen in winkelwagen.
Aanbieding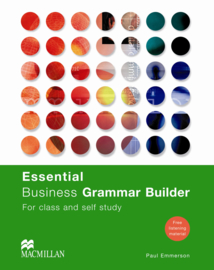 Essential Business Grammar Builder
€ 28,10
€ 26,50