Project Fourth Edition
Your students will love the cartoons, compelling exercises and an innovative digital package. We've listened to feedback from teachers around the world and kept all the things you've loved from previous editions while enhancing and updating the material to make it more engaging than ever before.
• Digital package includes Online Practice, animated iTools and new DVD material.
• Full-colour, interleaved Teacher's Books make lesson planning simple.
• More communication and multi-skill exercises will keep your students engrossed.
Extensive Reading Bank
• Encourages your students to read for pleasure and exposes them to a wider vocabulary.
• Includes classic stories such as Aladdin, The Pied Piper of Hamelin and Perseus, with comprehension exercises to help your students get the most out of each text.
• Includes dialogue in every story so your students can act them out in class.Pronunciation Bank
• Gets all your students practising pronunciation.
• Offers a wide range of activities – from TPR activities to appeal to kinaesthetic learners, to quieter activities that could be used as extension material for fast finishers.
Winkelwagen
Geen artikelen in winkelwagen.
Aanbieding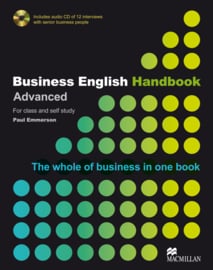 Business English Handbook Advanced
€ 30,90
€ 29,95