Fusion
With Fusion's integrated skills methodology and student-centred approach, you can ensure that your students learn the language and skills they need for the real world today.
• Grammar and vocabulary are integrated with the four skills. They are presented, practiced and activated through authentic, real-world content.
• Students have an opportunity to put new language into action in each lesson, preparing them to use English beyond the classroom.
• The student-centred approach builds on students' world knowledge, curiosity and experiences, and encourages them to respond personally.
• An 'Around the world' lesson in each unit develops students' cultural awareness. 'Curriculum extra' pages provide cross-curricular content, encouraging students to use their English in other school subjects.
• 21st century skills become easy to teach, with a dedicated lesson in every unit and critical thinking activities throughout the course.
• Cambridge exam-style tasks appear in each 'Review' page, and levels 4 and 5 provide specific exam preparation and tips.
Winkelwagen
Geen artikelen in winkelwagen.
Aanbieding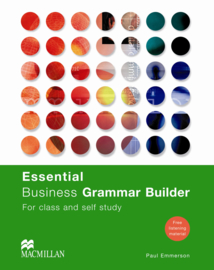 Essential Business Grammar Builder
€ 28,10
€ 26,50