NT2
Voor Nederlands als tweede taal hebben wij een grote collectie boeken beschikbaar. Veel van deze boeken zijn van Nederlandse uitgevers zoals Coutinho, Pak en Boom. We vullen de collectie voortdurend aan. Als u denkt dat we belangrijke titels missen, laat het ons dan even weten.
Als een titel niet in de webshop staat betekent dat overigens niet dat we deze niet kunnen leveren. Meestal lukt dat toch wel vlot. Neem in zo'n situatie contact met ons op: 0182-740200 of info@practicum-educatief.nl. We zoeken het meteen uit en informeren u vrijblijvend.
De boeken zijn ingedeeld op onderwerp. Mocht u vragen hebben over de titels, dan kunt u contact met ons opnemen op 0182-740200 of info@practicum-educatief.nl.
Winkelwagen
Geen artikelen in winkelwagen.
Aanbieding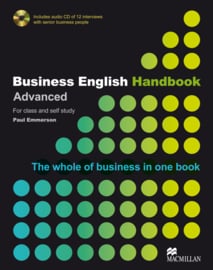 Business English Handbook Advanced
€ 30,90
€ 29,95