Christmas for Guitar 7 track download
Extended Player (EP) Download 7 tracks.
Great solo's for acoustic guitar arranged by Marc Lezwijn in finger style. The beauty of this way of playing is routed in the classical and jazz music by wonderful players like Andres Segovia and Joe Pass.
Jingle Bells, Rudolph Reindeer, White Christmas, Gospel Christmas (medley Mary Had a Baby, Oh when the Saints, Happy Days), Air, Let it Snow, Silent Night.
Luistervoorbeelden op de website.
Betaling via overboeking zonder extra kosten. Via iDeal € 0,50.
Taalkeuze

Nederlands

English
Aanbieding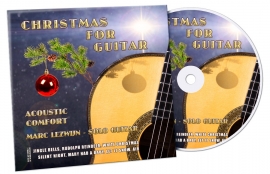 Christmas for Guitar CD in sleeve
€ 11,50
€ 10,00